The following product is only available to presenters at the 2018 Southern California Investors Conference:
Presentation Slides + Audio Webcast Archive for the 2018 Southern California Investors Conference
This digital purchase is for an archive link to your company's SCIC 2018 presentation, which will last for 90 days after the conference. While all SCIC 2018 presenters will receive a direct link to live-streamed coverage of their presentation (audio + their slides) at no additional charge, there will be no post-event archive available via the SCIC website. Without this additional purchase your company will not have post-event access to the archived material!
You will only receive an archive link from StreamDynamics by purchasing the following option: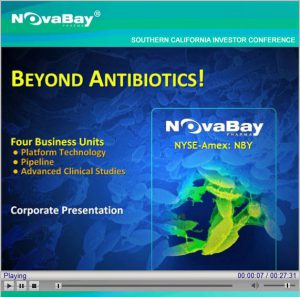 PowerPoint + Audio PowerShow Option ($250 One-Time Charge)
Branded player interface with PowerPoint, corporate styles and logo
PowerPoint slides which follow the presenter
90 Day Archive
Link directly from your company website and/or press release
Unique link will allow users to directly access your company's presentation
NOTE: Without an above option, visitors will only be able to follow your company's presentation as a live simulcast.
The live conference will be webcast through http://socalinvestorconference.com/. A schedule will be provided for each of the presentation rooms.
If you require an archive of your presentation, you must purchase the above option.
There will be a surcharge for services after the commitment deadline has past.
All webcasts are audio and presentation slides only – no live video of presenters will be provided.
All services are prepaid via credit card or company purchase order.